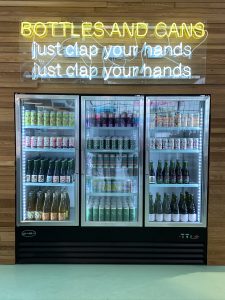 Tulsa has a lot of activities to keep you company while out on the town. While exploring all the great things the city has to offer, don't forget to stop by and support Oklahoma's Craft Beer Trail! There are nearly 19 craft breweries in the Tulsa area that are waiting for you!
Downtown Tulsa holds lots of future memories in its hands as long as you know where to look. The Blue Dome District is known for its entertainment value, including NEFF Brewing, which sells beer that is gluten free and vegan friendly! Down the street, you can find Dead Armadillo and Pearl Beach Brew Pub for additional fun. Pearl Beach is the only Oklahoma brewery that also includes a full-service bar. For all you competitive people, they have volleyball courts and yard games to keep you entertained while enjoying their delicious beer and great city view.
If you want to go to the center of the universe, we know just the spot for you! Welltown Brewing is located next to Tulsa's famous Center of the Universe landmark. Come enjoy Welltown's carefully crafted beer along with some fresh Nuggies – Tulsa's best chicken nugget joint. After visiting, make sure to check out the ahha Tulsa art museum because it's something you definitely won't want to miss out on! A few streets down, you'll be able to find Eerie Abbey Ales. Eerie Abbey is a Belgian-style brewery with tons of options to ensure you'll find the perfect match!

In the heart of the Pearl District, there are four breweries that everyone needs to visit at least once. Nothing's Left Brewing Co. creates a wide array of beers that'll leave you wanting more including their famous slushy beers and non-alcoholic options for the kiddos, too. At the Great American Beer Festival in 2019, their beer Deez Nuts was included in a list of "Top 10 Beers to Try" so don't miss your opportunity to fall in love with this brewery. Down the road you'll find American Solera, which won both "Best New Brewery in the United States" and "Second Best New Brewery in the World" in 2016. In their brewery, they have a kitchen that sells Bub's famous burgers to eat while sipping on their special beer/wine hybrids plus their airy space is just beautiful! In just a few steps, you can find yourself entering Cabin Boys Brewery. While their year-round beers are phenomenal, visiting during certain seasons will present you with even more creative and tasty beers! They're known for European-style beers and have won awards from the Great American Beer Festival for their Belgian beer. To end the tour of the Pearl District, Marshall Brewing has rich history in our state led by Eric Marshall who trained in Germany. Marshall's can provide you with all your traditional beer needs but be sure to try their Atlas IPA.

Further north you can find the cozy Heirloom Rustic Ales. Their wide selection would have anyone jumping to try them all but brewmaster Jake Miller is known for Lagers and their taproom is constantly throwing fun events. They brew something for everyone so drop in and stay awhile! If you head south down Lewis, you'll hit Renaissance Brewing Co. in no time. Renaissance offers a taste of Oklahoma with everything they do. Their specialty brews will make it hard to leave the taproom, so make sure to buy some cans to go in order to enjoy them from anywhere.
If you're driving Route 66 and want to make a pit stop at a brewery, so many Tulsa breweries lie just off the Route including American Solera, Heirloom Rustic Ales, Renaissance Brewing, Nothing's Left Brewery, Dead Armadillo, NEFF Brewing, Cabin Boys Brewery, Marshall Brewing, American Solera, Pearl Beach, Welltown Brewing and Eerie Abbey Ales. There's no shortage of breweries along the historic route, many of which reside in historic buildings.
South Tulsa and its suburbs are home to even more delicious breweries so don't hesitate to expand your horizons! High Gravity Brewing Co. Next door, they also own a home brewing shop for any enthusiasts looking to buy some materials. Heading into Broken Arrow territory, Broken Arrow Brewing Co. is a must-visit as they are rich in Native history and use a variety of styles and influences to craft their beer. We highly recommend the Hader-Weizen which is a nod to Bill Hader offering a robust wheat aroma that is super drinkable. In the center of the Broken Arrow's Rose District, there is never a lack of entertainment surrounding this brewery, so go shop and sip! Slightly east is another brewery you can't miss out on. Nook Brewing Co. is a family owned business with some of the lightest and tastiest beers in Oklahoma. If you have your pup with you, don't worry – they are canine friendly. A little bit away on the other side of the Arkansas River you can find The Cape Brewing Co. in Jenks. Their surplus of open space makes them friendly to children and dogs! They have a great location near the Oklahoma Aquarium, Flying Tee and other excellent places for some family fun! 
Tulsa has no lack of spectacular breweries with options that are great if you want to get away. Check out our map and the rest of the Oklahoma trail here.